Our new and improved playing field is located in Ferreiras (Assumadas), on the way from Albufeira to Algoz and is probably the largest in the Algarve. This fabulous paintball game field covers an area over 1 Hectar (10,000m²), with natural obstacles, trees, shrubs and many pallets. A large tent (64m²) offers some shade and is the base of the operations where you'll be briefed and handed your marker and protection gear. A table and seats are at your disposal for your refreshment and to enjoy snacks and beverages.

If you want to organise a game close to your area, we can come to you with our equipment, as long as the terrain has the necessary safety conditions.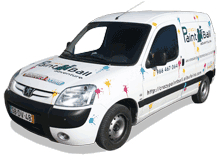 Do we play games all over the algarve if there is an appropriate place?
Our van and material goes to you!
Crazy Paintball Field in Ferreiras, Albufeira
Aerial view of our 10.000m² field